Though I love blogs and read all my news online, I still think there's nothing like picking up and reading a stack of good glossies. And for the longest time, Cosmo was my bible of choice. I looked at their editors and writers as the all-knowing gods and I read every issue religiously.

However, at some point, I found myself slightly disenchanted with Cosmo's absurdity and their over-the-top tips and advice. It was time to move on. Afterall, I needed more mature and more refined literature. So naturally surrendered to People and US Weekly. I love celebrities and I love celebrity gossip and this only made sense. And I can proudly say, I haven't looked back.

I love luxuriating in the deliciously guilty pleasures of Us Weekly's cute new spring fashions, celebrity homes, and their stunning offspring. Or how about their Just Like Us! page? Amazing, every time. And who can resist People's latest and greatest celebrity scandals, Hollywood gossip, and of course their 'hottest bachelors' and 'most beautiful people' editions?!

But not only am I a self-proclaimed queen of magazine subscriptions, but I am also one of those people at the grocery store who welcomes the long checkout lines. While on the outside I sigh, roll my eyes and nonchalantly reach for the magazine stand in order to battle boredom of the wait, on the inside I am squealing and jumping up and down. I get to spend 10 extra minutes with Britney, Brangelina, RPats, Jen, Victoria, Jessica, Sandy and many others.

But there is one person in my life who firmly believes that my obsession with celebrities may be one foot over the normal line. (points to the man in the header) He has tried to stage a gentle intervention, with an eye towards moderation, by trying to confiscate my stack of glossies.

However, I am not surrendering. I believe that being pop-culture savvy is not an invaluable skill in this society. I have used my gossip addiction to make friends with strangers and even bond with my barista. Maybe not being able to hold a conversation without referencing television, movie, or true-life! storylines, and referring to people I have never met as intimately as if they are dear friends is a little unusual. Or maybe my daily references to Brangelina, TomKat, J. Lo, ScarJo, Speidi, SJP and LiLo are a tad bit excessive.

But hey sometimes a girl needs to read some trash, and glossy pages with juicy pictures, intriguing headlines and 14 different fonts on a page do the trick every time :)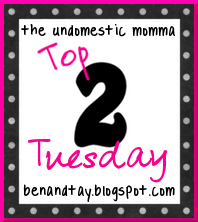 Edited to add- If you would like to play Top Two Tuesday, click on the button above to join! The Undomestic Momma posts new topics weekly!


I will return with our Easter weekend recap tomorrow! Hope everyone's having a fabulous Tuesday!