When it comes to beauty there are certain tools that every girl needs in her arsenal. Below are my top two must-have beauty secrets I can't live without:
BLUSH: We all have those days when we're overly tired and look a little down in the dumps (black under eyes, blotchy skin, unsightly blemishes, hand stamps rubbed off on a cheek). Needless to say, it's not pretty, nor is it appropriate for work/school/social gatherings with friends and family. Using blush, for me, is like getting an extra 5 hours of sleep! It's right up there with a couple Advil and a giant Starbucks! A few strokes of the right blush add a dewy shimmer to my cheekbones, instantly brightening an unhappy face. It's a total face refreshment.


PRIMER: Confession- I just started using primers about a year-ish ago... When I first encountered this product, I was very skeptical and confused. It didn't take long for me to discover that this clear liquid is pure magic! I use a primer daily. I won't put makeup on without it. They are great if you want your makeup to last super duper long. It makes my skin feel silky and helps the foundation goes on smoothly. Love, love, love it!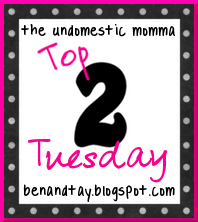 If you would like to play Top Two Tuesday, click on the button above to join! The Undomestic Momma posts new topics weekly!