Happy Tuesday, dolls!

So lately I have been feeling like Charlie's face time on this blog has greatly diminished and that is simply unacceptable. Please observe his cuteness again:
If Charlie could talk, I'm sure he'd say "What the heck, Mom? Stop slacking. Give me more blog time now." He is full of '

tude

these days :)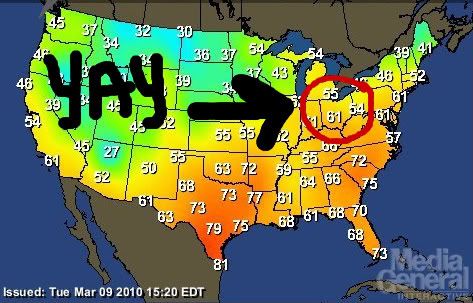 On another note, we are experiencing a true heat wave, you guys. Just a few weeks ago I was minorly depressed and had to sing mantras to myself repeatedly to survive, like: "I will not look at real estate in Hawaii, I will be content with this miserableness."
And then today, the temp hit 62 degrees! Can I get an AMEN? It feels like a heat wave, I am not joking. And while for some of you this may not be that warm, trust me when you live in Ohio in MARCH anything that's not snow is considered good weather! (and I did see a girl at the mall today wearing a tank top, shorts and flip flops. true story.)
Hope all of you are having a fabulous day! I am excited to get out of the office and enjoy the sunshine!