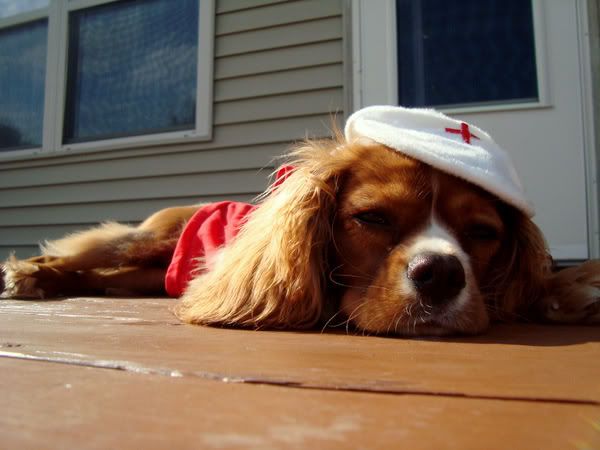 I love you. I really do. Ask the Internets. They'll tell you I call you the World's Greatest Dog, Ever. Because in my eyes, you really are.

But you need to stop abusing your powers of the puppy dog eyes and cuteness. And this time, mommy means it. And I mean business.

Last time mommy checked, the stairway was not designed by NASCAR and is not a racetrack. Beating me to the bottom is not the object. Tripping me doesn't help because I fall faster than you can run.

The dishes located on the floor are yours and contain your food. All other dishes are mine and contain my food. (Please note: placing a paw print in the middle of my dinner does not stake your claim on it, nor do I find it aesthetically pleasing in any way.)

Your Daddy and I cannot buy a bigger bed. So tonight please do us all a favor and try to sleep vertically. And please remember that it is not necessary to be stretched out to the fullest extent possible.

Also, don't think for a minute that making a sad face and whimpering pathetically will get you out of trouble when I find a puddle of pee on the floor. The face and the whimpering only validate and prove that you knew it was wrong when you did it.

I don't know how many times we have to tell you this, but your parents really like using the bathroom alone. When mommy runs to the door, happens to beat you there and manages to get the door shut, it won't help to whine and stick your paw under the edge to try to pull the door open.

And last but not least, when you see Daddy asleep on the couch, it is really funny not funny to make a sudden leap onto his stomach and drop a chew toy, bone or jingle ball on him… although it does make Mama laugh uncontrollably.

So dear little Charlie please remember that while you are our baby and we love you to pieces, your sassy little attitude needs to be taken down a notch. And yes, we know we aren't perfect either. But you do look adorable in that lifeguard visor.