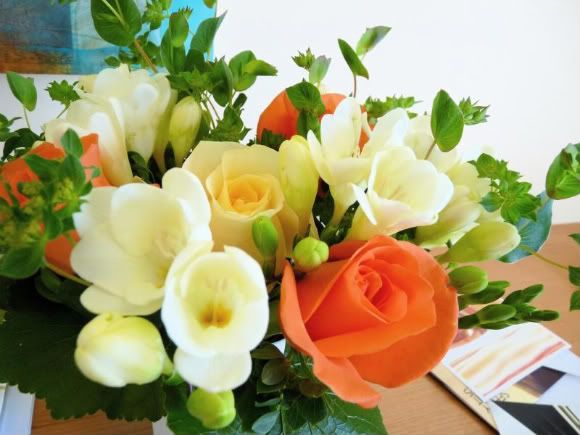 *Gloating Alert*
*Gloating Alert*
*Gloating Alert*
i love flowers….all types of flowers...my favorite flower will change from time to time, depending on my mood & the season….but no matter what i love flowers, they make me happy. Not to mention that they are a perfect little pick-me-up.
So, when a big floral box arrived this morning in my office, I felt kind of goofy giddy like a teenager receiving flowers from her first crush. *all together now-

awwweee

*
How cute. My husband makes me feel special and super-duper happy every single day, but it is always nice to be reminder how much I am loved and adored. Matt is really such a thoughtful man. Now what was even more touching, was the romantic card that came with the flowers. I'm not going to share what it said, but it was so well-written and adorable that it put a permanent smile on my face. I still can't stop smiling. Not to mention that now my office and I are feeling' Springy, baby!
Thank you babe for being so considerate and caring and for making me

sooooo

happy. You are my world and I love you :-*